A Beautiful Story of a Mother & Her Daughters...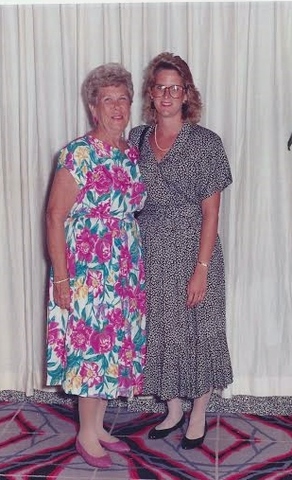 I grew up in the South where good food is an important part of life. I remember as a young girl the wonderful smell of my Mom baking her delicious pound cakes. There was always cake around to eat in our house. During my teenage years, my mother, Margaret Shurling Perry, and sister, Rayne Trussell Highsmith, had a wedding cake business. The combination of my mother baking her luscious sour cream pound cakes and my sisters artful skills in decorating was the making of unforgettable wedding cakes. I remember many Friday nights staying up late watching them while they finished their masterpieces. Occasionally my mother would have a cake that didn't bake all the way through and the center would fall; she would call these her sad cakes. It may have been sad for her, but it was happy for us kids because these were the ones we loved to eat the most. They didn't look so pretty, but they tasted awesome. After getting married, I would visit my mom every chance I could. On most visits we would enjoy a cup of coffee and a slice of her pound cake. My mother lost her life in an automobile accident in 2002, and I so treasure the memories of our time together. Several years later I was going through my recipe box and found her pound cake recipe that she had personally handwritten for me. I started baking her pound cakes and sharing them with friends and family on special occasions. I received so many compliments that I thought it would be fitting to continue her legacy. I've considered starting my own business for several years now, but it wasn't until July of 2015 that things finally came to fruition with Cyndy's Southern Pound Cakes.
---
~In loving memory of my beautiful mom, Margaret Shurling Perry
1928-2002.